10/24 Perry Acres Addition * 3 Bedroom/2 Bath * Brick Home
Auction Location: 110 E. Sara Dr., Enid, Ok, 73703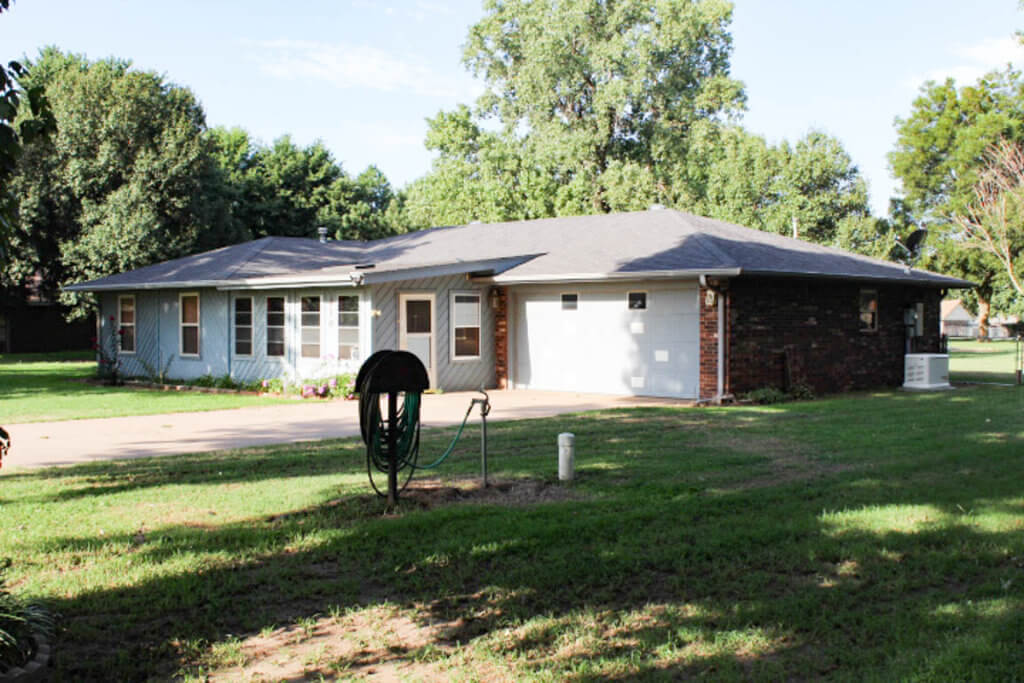 Thursday, Oct 24, 2019 at 10:00am
Perry Acres Addition * 3 Bedroom/2 Bath * Brick Home
Generac Home Generator * Just Outside Enid * Large Lot With Trees
Jo Etta Reed Auction
Location: On-Site : 110 E. Sara Dr., Enid, Ok, 73703
Date: Thursday, Oct 24, 2019 at 10:00am
Open House Dates: Sunday, October 20, 2019 from 2-4pm and by appt
Directions: 110 E Sara Dr., Enid, Ok, 73703
This custom built 3 bedroom/ 2 bath with attached 2-car oversized garage is located just minutes from Enid in a quiet neighborhood. The home is equipped with a Generac Standby Home Generator so you never have to worry about being without power. There is a 20×30 loafing shed/pole barn in the back yard along with another outbuilding. Large back yard with plenty of room to roam.
Legal Description: Lot 5 Block 1 sd-R85 Perry Acres 6th Addition, NE/4 19-22-7; 110 E Sara Dr., Enid
Taxes: $1901 with exemption available
Pre-Offers: Offers will be accepted until 3:00pm, October 9, 2019.
Possession: Given at closing.
Utilities: Electric – OG&E, Gas – ONG, Water – Private water well along with RWD #4, Sewage – Septic tank
Seller: Jo Etta Reed
Auctioneer's Note:  This is Lippard Auctioneers second home to have the privilege of selling recently in this wonderful, quiet neighborhood located just minutes out west of Enid.  You'll have peace of mind with the Generac Home Generator.
Terms:  5% of total purchase price is to be placed in escrow day of the auction with the balance due upon delivery of marketable title. All inspections must be done prior to bidding. Financing must be in place prior to bidding. No contingencies, home sales AS IS condition. Disclaimer: All information has been taken from sources believed reliable; however, no guarantee is being made by the auction company or the sellers. Buyers should satisfy themselves as to any inspections prior to bidding. Any announcements made by the auction company will supersede all advertising.
Seller:  Jo Etta Reed
110 E. Sara Dr., Enid, Ok, 73703
1 1/4 miles South on Imo Rd off of Hwy 412. West 1/4 mile on Perry RD., North on Sara. Property is located on west side of Sara Rd.
110 E. Sara Dr., Enid, Ok, 73703
Perry Acres Addition * 3 Bedroom/2 Bath * Brick Home
Generac Home Generator * Just Outside Enid * Large Lot With Trees
Jo Etta Reed Auction
Location: On-Site : 110 E. Sara Dr., Enid, Ok, 73703
Date: Thursday, Oct 24, 2019 at 10:00am
Open House Dates: Sunday, October 20, 2019 from 2-4pm and by appt
Directions: 110 E Sara Dr., Enid, Ok, 73703
This custom built 3 bedroom/ 2 bath with attached 2-car oversized garage is located just minutes from Enid in a quiet neighborhood. The home is equipped with a Generac Standby Home Generator so you never have to worry about being without power. There is a 20×30 loafing shed/pole barn in the back yard along with another outbuilding. Large back yard with plenty of room to roam.
Legal Description: Lot 5 Block 1 sd-R85 Perry Acres 6th Addition, NE/4 19-22-7; 110 E Sara Dr., Enid
Taxes: $1901 with exemption available
Pre-Offers: Offers will be accepted until 3:00pm, October 9, 2019.
Possession: Given at closing.
Utilities: Electric – OG&E, Gas – ONG, Water – Private water well along with RWD #4, Sewage – Septic tank
Seller: Jo Etta Reed