4/26 160± ACRES * KAY COUNTY * GRASS LAND * PONDS * BLACKWELL OKLAHOMA
Auction Location: W. Furguson Ave & R St. Blackwell OK 74631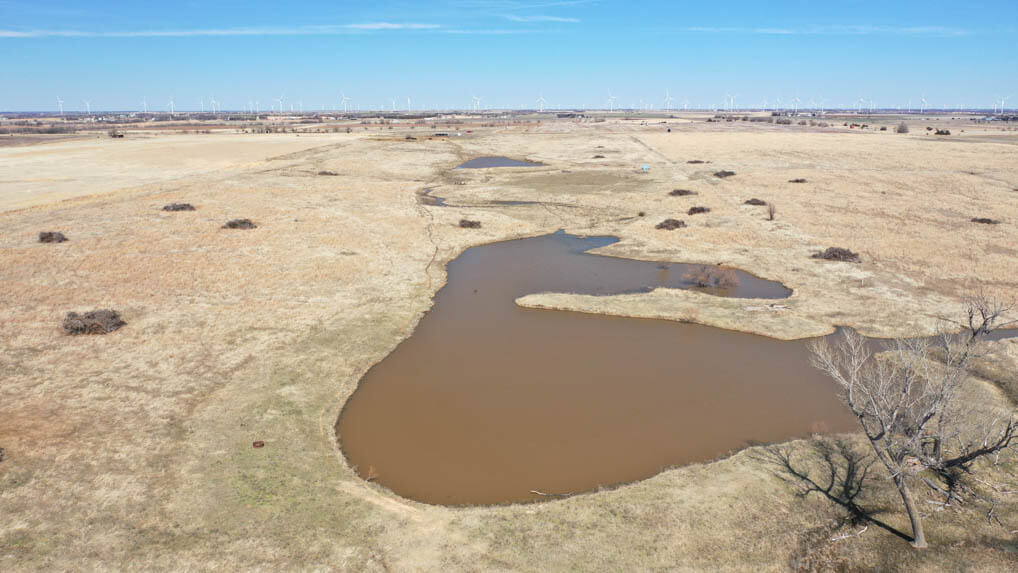 Live Onsite With Online Bidding
Friday * April 26th * 3PM
160± ACRES * KAY COUNTY * GRASS LAND * PONDS * BLACKWELL OKLAHOMA  AUCTION
Friday April 26th 2019                    3:00PM
Auction Location: Onsite! W. Furguson Ave & R St. Blackwell OK 74631
From the intersection of Hwy 177 & 11 in Blackwell, OK. Go 4 miles east to R Street, then 1 mile south.
This nice quarter section of land consists of 160± acres. The farm is located at the corner of R Street and Furguson Ave. and is comprised of mostly native grass pasture with a 60-acre hay meadow. There are two nice ponds, good perimeter/cross fencing, cattle pens and nice wood/metal (12'x40') cattle shelter. Access is by good county gravel road. For more information call Troy Lippard, 580-747-6747
Principal soil types are Kirkland Silt Loam. 1-3% slopes, class II and Kirkland-Renfrow Complex, 3-5% slopes, class III
Legal Description: NW/4 of Section (28), Township (27) North, Range (1) East Kay County, OK
Directions to Farm: From the intersection of Hwy 177 & 11 in Blackwell, OK. Go 4 miles east to R Street, then 1 mile south to Ferguson Rd.
Taxes: $369.00 will be prorated to the day of closing.
Minerals: seller surface rights only.
Wind Lease: There is a current wind lease in effect until June 2019
Possession: will be given at closing
Pre-Offers: No pre-offers will be taken before auction
Internet Bidding: will be available by logging on to www.lippardauctions.com to register. Neither the Auction Company or the Seller is responsible in the event of loss of internet signal by either side.
Auction Terms: 10% of the total purchase price is to be placed in escrow the day of the auction with the balance being due upon delivery of marketable title.
Disclaimer: All information has been taken from sources believed reliable; however, no guarantee is being made by the auction company nor the seller. Buyer should satisfy themselves as to any inspections prior to bidding. Any announcements made the day of the auction supersede all advertising.
SELLER: DANIEL & GENEVA KIMMELL and BRADLEY & DEBORAH KIMMELL
W. Furguson Ave & R St. Blackwell OK 74631
From the intersection of Hwy 177 & 11 in Blackwell, OK. Go 4 miles east to R Street, then 1 mile south to Ferguson Rd.
W. Furguson Ave & R St. Blackwell OK 74631
160± ACRES * KAY COUNTY * GRASS LAND * PONDS * BLACKWELL OKLAHOMA  AUCTION
Friday April 26th 2019                    3:00PM
Auction Location: Onsite! W. Furguson Ave & R St. Blackwell OK 74631
From the intersection of Hwy 177 & 11 in Blackwell, OK. Go 4 miles east to R Street, then 1 mile south.
This nice quarter section of land consists of 160± acres. The farm is located at the corner of R Street and Furguson Ave. and is comprised of mostly native grass pasture with a 60-acre hay meadow. There are two nice ponds, good perimeter/cross fencing, cattle pens and nice wood/metal (12'x40') cattle shelter. Access is by good county gravel road. For more information call Troy Lippard, 580-747-6747
Principal soil types are Kirkland Silt Loam. 1-3% slopes, class II and Kirkland-Renfrow Complex, 3-5% slopes, class III
Legal Description: NW/4 of Section (28), Township (27) North, Range (1) East Kay County, OK
Directions to Farm: From the intersection of Hwy 177 & 11 in Blackwell, OK. Go 4 miles east to R Street, then 1 mile south to Ferguson Rd.
Taxes: $369.00 will be prorated to the day of closing.
Minerals: seller surface rights only.
Wind Lease: There is a current wind lease in effect until June 2019
Possession: will be given at closing
Pre-Offers: No pre-offers will be taken before auction