4/28 JD 7130 MFD TRACTOR W/LOADER – TILLAGE- CATTLE – GARBER OK
Auction Location: 24620 E Breckinridge Rd Garber OK 73738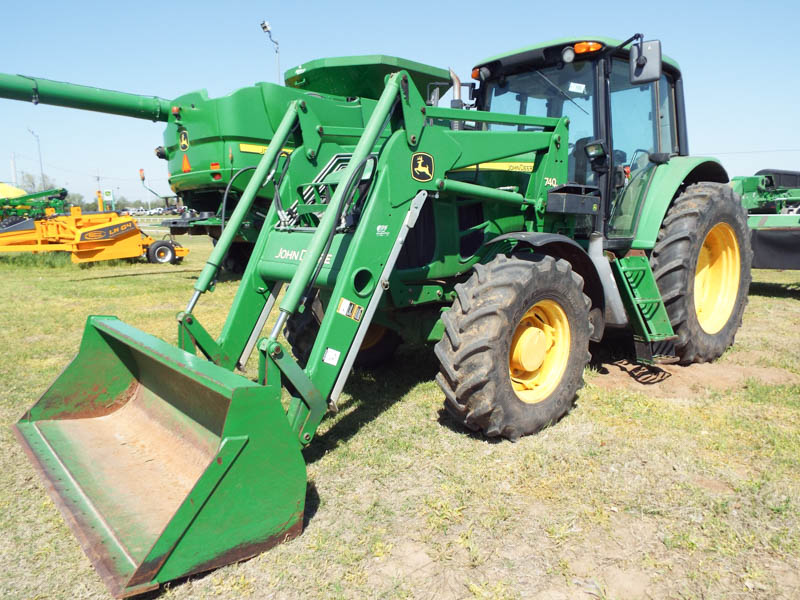 Tuesday April 28th starting at 6PM CST
| | |
| --- | --- |
| lot | title |
| 4538 | Priefert small probable chute |
| 4521 | McFarland 16 row harrow |
| 4522 | Rhino SWR 12 wheel rake. |
| 4523 | Crustbuster 32' 2 bar spring tooth |
| 4549 | Sunflower 2300-15, 15' chise |
| 4550 | John Deere 24' spring tooth |
| 4537 | 9'x 6' single axle Fuel trailer |
| 4546 | Big Tex 8'x6' single axle Fuel trailer |
| 4535 | 10'x6' single axle trailer |
| 4528 | John Deere 1000, 28' field cultivator |
| 4536 | Econo 8' dirt mover, ( good tires) |
| 4529 | Sunflower 1321 Disk |
| 4530 | John Deere 13' one-way, 23" disks |
| 4532 | Brillion SS-12 seeder |
| 4517 | AC 2000 3 bottom 3 point Plow |
| 4547 | Yetter 3421 21' RotaryHoe |
| 4515 | Gooseneck truckbed on triple axle |
| 4524 | W&W 2006 Gooseneck livestock trailer |
| 4531 | 20' Drag spring tooth |
| 4525 | JD 7130 MFD with 740 loader |
10% Buyers Premium will be added to the final bid price.
Online Terms: All property is sold "AS IS", and ALL SALES ARE FINAL. Property is open to thorough public inspection. It is the Bidder's responsibility to determine condition, age, genuineness, value or any other determining factors. Lippard Auctioneers Inc. may attempt to describe the merchandise in advertising, on the Internet and at the auction but makes no representations. In no event shall Lippard Auctioneers Inc. be held responsible for having made or implied any warranty of merchantability or fitness for a particular purpose. Bidder shall be the sole judge of value. Lippard Auctioneers Inc will not be responsible for any missed bids from any source. Internet bidders who desire to make certain their bid is acknowledged should use the proxy-bidding feature and leave their maximum bid 24 hours before the auction begins. Lippard Auctioneers Inc reserves the right to withdraw or re-catalog items in this auction.
24620 E Breckinridge Rd Garber OK 73738
Preview during daylight hours only!
24620 E Breckinridge Rd, 4.5 miles East of Breckinridge Rd & HWY 74 Garber OK.
Questions call Rodney 580-548-6652
24620 E Breckinridge Rd Garber OK 73738
| | |
| --- | --- |
| lot | title |
| 4538 | Priefert small probable chute |
| 4521 | McFarland 16 row harrow |
| 4522 | Rhino SWR 12 wheel rake. |
| 4523 | Crustbuster 32' 2 bar spring tooth |
| 4549 | Sunflower 2300-15, 15' chise |
| 4550 | John Deere 24' spring tooth |
| 4537 | 9'x 6' single axle Fuel trailer |
| 4546 | Big Tex 8'x6' single axle Fuel trailer |
| 4535 | 10'x6' single axle trailer |
| 4528 | John Deere 1000, 28' field cultivator |
| 4536 | Econo 8' dirt mover, ( good tires) |
| 4529 | Sunflower 1321 Disk |
| 4530 | John Deere 13' one-way, 23" disks |
| 4532 | Brillion SS-12 seeder |
| 4517 | AC 2000 3 bottom 3 point Plow |
| 4547 | Yetter 3421 21' RotaryHoe |
| 4515 | Gooseneck truckbed on triple axle |
| 4524 | W&W 2006 Gooseneck livestock trailer |
| 4531 | 20' Drag spring tooth |
| 4525 | JD 7130 MFD with 740 loader |